Block Odour, Not Sweat - Why Aluminium-Free Deodorant Is Best for Your Underarms?
Changes in our body mechanisms are noticeable as we grow old. One such change is our body odour (BO) – which we usually only notice when it becomes an unpleasant smell. Healthline.com states "Changes in body odour can be a normal part of development, such as when an adolescent is going through puberty. During puberty, sweat glands and hormones become more active, which can cause BO. If you've been working out, excessive sweat may be the culprit. If you don't wear antiperspirant or practice healthy hygiene habits, sweat can mix with bacteria, causing an unpleasant smell." Usually, we blame sweating as the culprit for BO. But this is not actually the case. Sweating is our body's way of cooling down as we become more active in our daily activities. "Apocrine glands work primarily under stress, secreting an odourless fluid. This fluid begins to develop an odour when it comes into contact with bacteria on your skin. These glands don't start working until puberty, which is why that's usually the time we start to notice body odor.
1
" Thus, sweat is not the culprit but rather the bacteria that is on your body during stressful activity. Besides, perspiration is a good indicator that our body is doing enough exercise to burn calories and that's always a good thing. So how do we avoid BO when sweating is such an essential part of cooling down our body? Aluminium-based antiperspirants have become popular commercially in preventing excessive sweat, so much so that almost every antiperspirant you buy in a supermarket will contain aluminium. Typically, antiperspirants work by temporarily blocking your sweat glands and keeping you from perspiring. They also add a pleasant scent to cover up any existing odors. So, if you are working or exercising this prevents sweat and thereby blocks. While this product can help avoid body odour, it doesn't do much about the real cause of the problem: the bacteria that is causing the bad smell. In reality, what these aluminium-based antiperspirants are actually doing is preventing your body from cooling itself down by blocking the natural mechanism of producing sweat. Studies have found that aluminium in antiperspirants can be absorbed into the skin as part of the temporary plugging process and cause an oestrogen-like hormonal effect.
2
While more research is needed to confirm the effects of aluminium, researches have suggested that aluminium does build up in breast tissue and could cause genomic instability, interference with oestrogen and iron metabolism, and oxidative damage to cellular components.
3
Research in these areas is ongoing, but already there is more than enough cause for concern over the long-term impact of spraying aluminium onto your skin. Arianrhod Aromatics has been addressing this concern with aluminium-based deodorant for over a decade by providing an organic, completely natural, aluminium-free deodorant that allows your body to sweat naturally, minus the potential unpleasant body odour. Rather than blocking up your sweat glands and pouring chemicals on your skin, the Arianrhod aluminium-free deodorants work by using
colloidal silver
, a 100% naturally occurring anti-bacterial agent. This helps to remove the bacteria on your skin before you start sweating. Iamme added other natural ingredients like the anti-fungal 
Australian hemp seed oil
 and 
sodium bicarbonate
 to help keep you dry without the potentially harmful side effects of aluminium. Australian hemp seed oil is well known to act as an antibacterial and antifungal agent, part of what makes our aluminium-free deodorants so popular. Even without the aromatic addition of the essential oils in our scented varieties, you will find that our aluminium-free deodorants work very effectively at preventing bad body odours. Why should you use a natural deodorant? Mainstream underarm products use a combination of chemicals that may not be good to our body. In addition to aluminium, these chemicals may include but not limited to parabens (artificial preservatives), propylene glycol (neurotoxin), TEA & DEA (can cause allergic reactions) and triclosan (artificial antimicrobial chemical). Remember that what goes on your body can end up in your body. There are also questions about the impact of these chemical-based products on your skin in the long run. So while they might solve your BO in the short term, what might be happening to your body that you can't see right now? Our aluminium-free deodorants are made using organic ingredients that are known to be very safe for use on your underarms. There is no chemical that traps the sweat, preventing your body from cooling itself. Instead, our deodorants prevent the smells by eradicating the bacteria that combines with sweat and causes body odour. Currently, we have five aluminium-free deodorants with fragrances to suit you!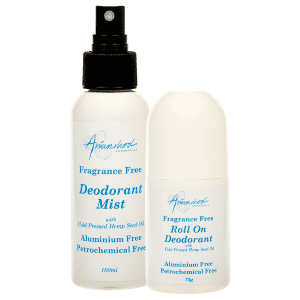 - For the purist who doesn't want any smell at all and just wants to block the BO. Grant, one of our customers, said "Been using this for years and haven't had BO for the same time. Doesn't stain clothes."
- For the person who always wants to stay fresh as the morning breeze. If you find yourself feeling flat during the day at work, our fresh fragrance will pick you up!
- Moms would love this as they juggle their work and daily chores but still want to keep fresh when they welcome their loved ones home.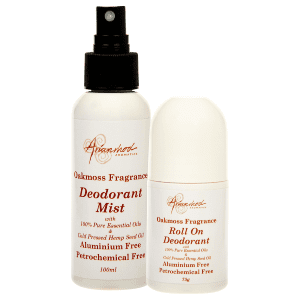 - Hit the gym or feel free to sweat playing your favourite sports. Our most popular fragrance for men who want to be performing at their best but still smell great all day long.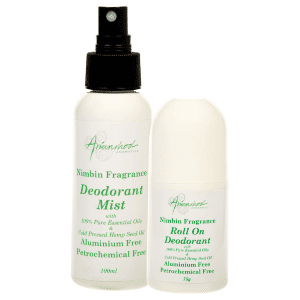 - Show off the confident woman in you. Kirsty personally loves this product and said "My all-time favourite deodorant. I've tried so many & this one smells gorgeous, works & is long-lasting."
Block odour, not sweat. Arianrhod Aromatic champions clean living with natural products that don't break the bank.